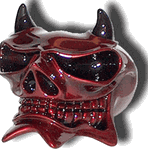 The Gennie Shifter®, like most OEM Manufacturers, uses Side Detent. The world's finest automobiles have shifters for automatics that use lateral action or Side Detent, to more precisely define gear selection. This lateral action, with it's positive stops, virtually eliminates shifting errors that can occur with straight line button-style shifters (once the button is depressed, straight line shifters can be pushed into any gear!). Side detent also allows for silky smooth manual shifting during spirited driving. Doesn't your ride deserve the best?
Gennie Shifter has superior features, such as our Neutral Safety Switch, a Gated Lock Out System and a truly safe, no-button Shifter. With a Gennie Shifter®, you are never limited in your choices of knobs. And the really great thing is, that with Gennie Shifter's solid steel Shift Sticks and fewer moving parts, your shifter won't have that annoying rattle!

With the current exception of the Van Chase & Gennie Skull knobs, Gennie Shifter's knob selection all feature a master thread system. So whether you are fitting a knob to the Gennie Shifter sticks 5/16" thread pattern or replacing a knob on your current stick/shifter, Gennie Shifter® Knobs will fit your application.